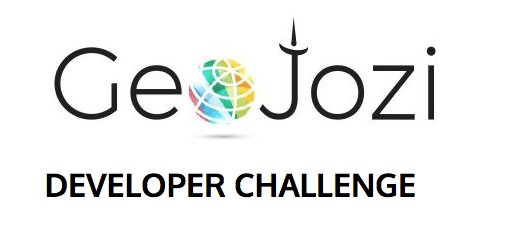 Application Deadline: August 31st 2016
As the world becomes more digitised, more real-time data about cities is becoming available all the time.  This data can help to manage cities better. It can make cities smarter.
The GeoJozi Challenge is a developer challenge that calls on young citizens of Johannesburg (30 years old or younger) to tackle our city's toughest problems through the innovative use of Geographic Information System (GIS) data.
GeoJozi Challenge is calling on young developers – 30 years old or younger – to find a digital solution to the many challenges that exist around street addresses and location in our city.

A street address informs us of location. It answers the question: "Where?" And that is where Geographic Information Systems (GIS) come in, because it is all about a specific position or coordinates on earth.
If you are a Johannesburg-based developer, sign up for the GeoJozi Challenge and work with the City of Johannesburg to improve the lives of our citizens. You stand the chance of winning R150 000 for your winning idea. Second and third places will earn you R100 000 and R50 000 respectively.
Requirements:
The 2016 GeoJozi Developer Challenge is open to software developers, or those keen to try it out. You must be 30 years or younger and be a resident of Johannesburg.
The developer challenge is for you to come up with a solution that helps the City of Johannesburg (COJ) and Joburg residents realise the importance and the power of location.
Task
You will create an innovative application as a solution to the many different issues relating to street addresses. Individuals will present their solution to a panel of experts.
The City of Johannesburg is eager to implement the best ideas.
You are welcome to solve any aspect(s) of the issues that are listed.
Prize:
A cash amount will be awarded to the top three contestants as follows:
1st  prize : R150 000
2nd prize : R100 000
3rd prize : R50 000
You will also receive a 12-month membership to the Digital Innovation Zone at the Tshimologong Precinct in Braamfontein where you will have access to a shared working space, leading technical experts and support.
Your idea and product will receive recognition in the GeoScience community as well as the broader media and startup community.
PARTICIPATION PROCESS
The following is an overview of the process contestants will need to follow to participate in the 2016 GeoJozi Developer Challenge:
Developers register on the website to participate. You gain access to the City of Johannesburg GIS data.
Developers attend a briefing session where the Challenge is fully explained and questions are answered.
Developers submit a short proposal (as a slide deck) to enter the first round.50 Semi-finalists are selected from the submissions and invited to a pitch day.

10 Finalists will be chosen on the pitch day.

10 Finalists will receive the following training:

–  ESRI South Africa on the use of GIS Application Programmer Interface (API)

– JCSE on the use of professional software development techniques

10 Finalists present their GeoJozi solutions at the demo day

Top 3 winners of the 2016 GeoJozi Developer Challenge are selected

Awards ceremony for the 2016 GeoJozi Challenge
For More Information:
Visit the Official Webpage of the 2016 GeoJozi Developer Challenge