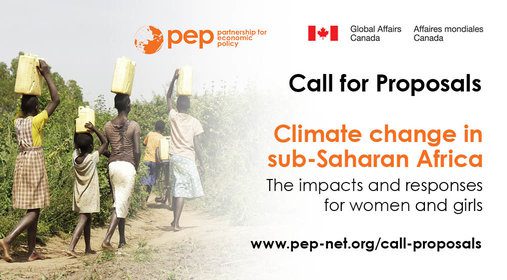 Application Deadline:August 25, 2020 (23:59 GMT). 
Global Affairs Canada (GAC) has awarded funding to PEP for a new research initiative on "Climate change in Sub-Saharan Africa: Impacts and responses for women and girls". Through this three-year initiative (2020-2023), PEP will support up to four (4) research projects, each in a different sub-Saharan African country.
This initiative aims to address critical capacity gaps on both (supply and demand) sides of the research-policy nexus and produce the evidence that local and national policymakers need to inform specific policy interventions for:
Increasing women's leadership in defining and implementing solutions to mitigate or adapt to climate change effects, and
Mitigating the effects of climate change on gender equality.
To ensure the relevance of the research and its use for informing policy, the projects will be led by teams of local researchers and government officers.
Applicant teams must also:
Be gender-mixed

Female members must represent at least 50% of researchers (including the team leader) and at least 50% of government-affiliated members.
All female members must contribute substantively to the project.
PEP particularly encourages teams with a female leader.

Be composed exclusively of sub-Saharan African nationals, who are residing in sub-Saharan Africa for the duration of the project.
Notes:
A researcher can be funded as a team member a maximum of three times by PEP (no more than twice as team leader) and should show marked progression over time. 
A researcher who is already involved in a currently funded project is not eligible to submit a new proposal before the approval of the final report of the currently funded project.
Each team should identify one team member who has the expertise and capacities to replace the team leader if the latter is not able to complete the project for any reason.
Funding and selection process
This initiative will fund up to four (4) new projects.
Funding is up to US $58 K, including US $24 K in a research (cash) grant tied to deliverables and up to US $34K in various subsidies, such as for participation in PEP meetings and study visits, publications in peer-reviewed journals, presentations in international conferences, the organization of national policy conferences to share/discuss findings with stakeholders, etc.
Proposals are evaluated, and selected, based on the following criteria:
Scientific quality: literature review, originality, methodology, data
Policy relevance: in addition to the acknowledgement letter from their government-affiliated members' institution, teams must provide a convincing argument that the evidence sought through the proposed research project will be useful/serve to inform strategic policy decisions
Capacity building: in particular the contributions and expected skills to be attained by each team member, especially female and junior researchers, as well as the capacity of the team to execute the project.
Longlisted teams
Will be invited to revise and submit their proposals after the first round of evaluation.
Revised proposals will go through the second round of evaluation, to produce a shortlist of around seven teams.
Shortlisted teams
Will be invited to participate in an online training course (and additional gender analysis modules), relevant to the research methods/tools to be applied in their project, from January to April 2021.

All members of the selected research teams are strongly encouraged to complete this course.

Completion is a prerequisite for researcher-members to participate in PEP conferences and study visits.

Shortlisted teams will be asked to name up to two "substitute" researchers who will also be invited to take the online courses and, if successful, will be able to replace any of the core researchers who do not successfully complete the online course, to ensure the final team respects PEP's requirements (four researchers, at least 50% female, at least two aged under 30).

These "substitute" researchers should typically be under 30 years of age and at least one should be female.

If at least four researcher-members, including at least two female researchers and two aged under 30, successfully complete their online course, teams will be invited to present their (revised) proposal at a PEP conference in June 2021, where they will be represented by two members (one researcher and one government-affiliated member).
PEP conference participants
Will receive training and feedback on both the scientific and policy aspects of their projects at this conference.
Non-participating members will be able to follow proceeding virtually (live or through video-recorded sessions).
Final project selections will be announced after the conference.


Application details and procedure
DEADLINE FOR SUBMISSION is August 25, 2020
How to submit a proposal using the PEP intranet system
Applications must be submitted via the PEP intranet system, before August 25, 2020 (23:59 GMT). Here are the steps to follow:
ALL members of the applicant teams must register on the PEP website BEFORE submitting a new proposal.

To register, click Register (see also the top right corner of the PEP website header, next to "Login") and follow the instructions.
Once registered, each member will receive a username and password by email, normally within minutes. Your profile will be activated within 24 hours.

Access your PEP intranet file by clicking on the Login button (also top right corner above) and entering the username and password received.

Note that you can change your password yourself, through your personal intranet profile, at any time.

ALL members of the applicant team must complete their PEP intranet profile, including their CV, birthday, highest diploma, a photo and short professional bio.

To do this, each member should log in to the PEP website and then select "Profile" (then "Upload CV", "Upload photo", etc.).

To submit the proposal, the team leader must log in, open the menu under "My workspace", click on "Submit New Proposal", fill out the required information and upload all required documentation using the mandatory PEP proposal template (provided below – see "content of proposals").
Once finished, to make sure that the proposal has been successfully submitted to PEP, simply return to your PEP intranet file and click on "My Projects".
For More Information:
Visit the Official Webpage of the PEP call for project proposals on "Climate change in Sub-Saharan Africa