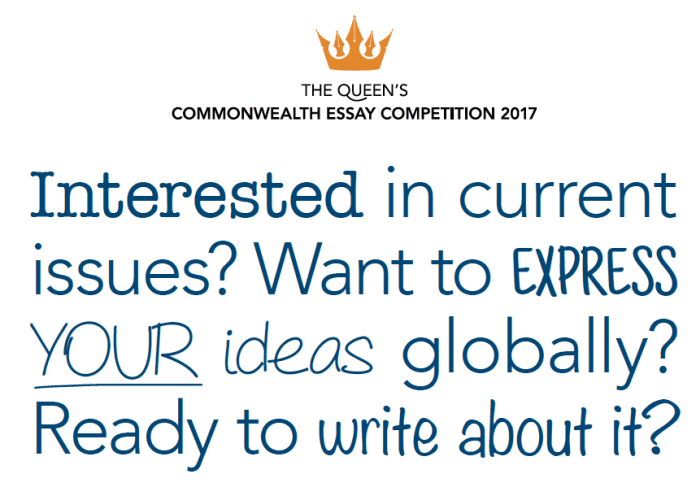 Submission Deadline: May 1st 2017
The Royal Commonwealth Society is pleased to announce that the theme for The Queen's Commonwealth Essay Competition 2017 is A Commonwealth for Peace.
Building upon the 2016 theme of An Inclusive Commonwealth, this year's topics ask for a more active understanding of the role of the Commonwealth as a network of and for democracy, Human Rights and peace. We are asking young writers to explore peace at every level, from the personal to the political to the pan-Commonwealth.
 Topics
JUNIOR CATEGORY
SENIOR CATEGORY

What is in your Toolbox for Peace?
My peaceful place.
How can children and young people come together to build a peaceful society?
'Peace cannot be learnt from a book or from religion. You have to reach out and touch the nations.' How does this relate to the Commonwealth?

Peace.
Should you fight for peace?
Kofi Annan said 'Education is, quite simply, peace-building by another name.' Do you agree? Answer with reference to your country and/or the Commonwealth.
What is the cost of peace?
Requirements:
All citizens and residents of the Commonwealth aged 18 and under are eligible to enter the competition. Special dispensation applies to entrants from Hong Kong, Ireland, The Gambia and Zimbabwe, who are also eligible.
All entries must be in English.
Entrants are asked to present their work in the format that best conveys their message, be that an essay, poem, story, folk tale, script, reportage, monologue or other written style.
Photos and drawings are encouraged, particularly in the Junior Category.
AWARDS
One Winner and Runner-up will be chosen from each category.
Winners and Runners-up will be flown to London for a week of educational and cultural events, culminating in a special Awards Ceremony.
A number of Gold, Silver and Bronze
Awards will be given in both the Senior and Junior categories, rewarding excellence in writing.
All entrants will receive a Certificate of Participation.
For More Information:
Visit the Official Webpage of the Queen's Commonwealth Essay Competition 2017