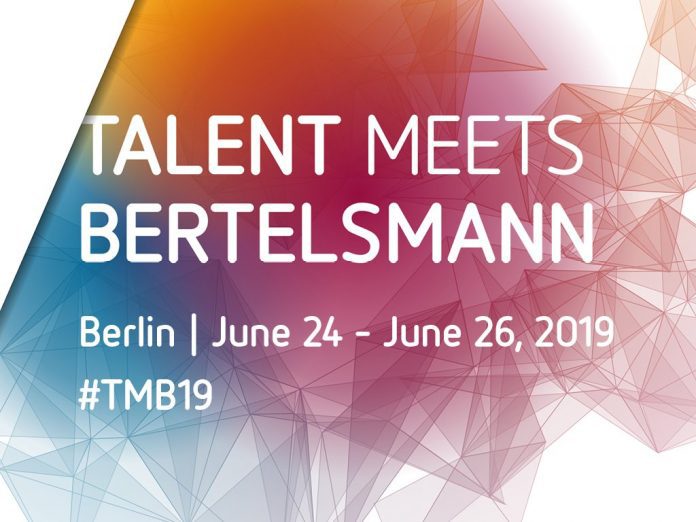 Application Deadline: May 5, 2019.
Are you ready to shape the digital future? Are you creative and passionate about the media landscape and data-driven business models?
TMB are looking for talents with entrepreneurial, innovative mindsets to participate in our international networking event, "Talent Meets Bertelsmann 2019," from June 24 to 26, 2019. Tackle the challenges and opportunities digitalization and big data both bring, and participate in demanding workshops. Work hand in hand with experienced Bertelsmann entrepreneurs on key business ideas, and present your results in front of a jury of Bertelsmann executives. Join "Talent Meets Bertelsmann" and gain an in-depth insight into one of the biggest media companies in the world.
Requirements:

You must be a bachelor, master or MBA student or a doctoral candidate and fluent in English, as the event will be held in English. It doesn't matter what you're studying. You just have to be enthusiastic about media, media diversity and data.
You are eligible to participate whether you are just beginning, in the middle or about to graduate. MBAs with some work experience are also welcome.
Benefits:

Bertelsmann cover the costs of each participant's hotel room for two nights (June 24 to June 26, 2019), as well as travel expenses up to 300 EUR for students coming from European schools and up to 500 EUR for students from non-European schools. All participants are invited to join a closed Facebook group so that you can get to know one another in advance of the event.
Establishing a long-term relationship with Bertelsmann and its people – this is what the TMB Community is all about. There are various possibilities to keep in touch with the company and other TMB Alumni, for example through regular events and a dedicated, closed Facebook Group.  
As a member of the TMB Community, you…
will be invited to join the TMB evening event every year.
will profit from an international network, which already includes more than 600 outstanding members.
are invited to attend the annual TMB Alumni Meeting.
are given the opportunity to meet other members at worldwide Alumni Hubs in cities close to where you live.
will be the first to know about exciting job opportunities and other news related to Bertelsmann
Asynchronous Video Interview
The asynchronous video interview is a new form of interview in which you, the applicant, is guided through a structured interview process, which you do on your own. In the interview, you answer (text-based) questions in front of your webcam. "Asynchronous" means that you do not do the interview at the same time as the interviewer. The interviewer is not online at the same time as you, but instead you do the interview independently, at a time and place of your choice.
How to apply:
Please apply online, as we do not consider applications submitted by mail, fax, or e-mail. Your application (in English) should tell us about yourself and your goals. Let us know why you want to participate in "Talent Meets Bertelsmann."
Your resume should clearly indicate that you are fascinated by media as well as data, and your motivation letter should explain why you are eager to pursue entrepreneurial challenges. Please attach any certificates attesting to your proficiency in English if available.
After we have reviewed your application, we will decide if you will be invited to the second round of the selection process: an asynchronous video interview. Alternatively, there is the possibility to have a phone interview instead of the asynchronous video interview. After the interviews, we will soon send out invitations for the event.
For More Information:
Visit the Official Webpage of the Talent Meets Bertelsmann 2019