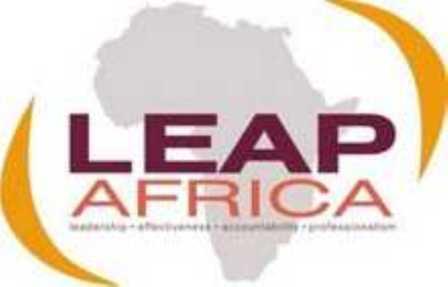 Application Deadline: January 14 2013
LEAP Africa is delighted to announce its LEAP Fellows Initiative. The initiative is a 3 – 4 month professional fellowship for individuals with under 5 years post graduate experience who have a passion for leadership development in Africa.
Fellows will serve full-time at LEAP Africa located in Lagos, Nigeria working on issues centred on leadership, business development and social change. The initiative is designed for Fellows to develop their leadership and research skills while sharing best practices.
THE CALL for Applications
The application for the February 2013 Fellowship is open and prospective Applicants are  encouraged to submit their application as soon as possible!
This initial call is for Research Fellows, who will work on LEAP's mini publications for entrepreneurs who run small and medium scale enterprises (SMEs). Applications will be accepted all year long; however to be considered for the February 2013 slot, applicants are to submit their application  by January 14, 2013.
REQUIREMENTS
A first degree from a reputable university. A Masters degree will be an advantage
Creative writing experience and/or basic research skills
Excellent spoken and written English: general ability to clearly and concisely express ideas and concepts in written and oral form
Work experience with an international NGO or with an academic institution would be an added advantage
Strong interpersonal skills
Detail oriented and self management skills
Ability to work independently and meet tight deadlines
How to participate
All applications should be accompanied by a 300-word cover letter and curriculum vitae and sent to [email protected] with the heading
« APPLICATION FOR THE ROLE OF LEAP FELLOW  » by January 14, 2013.
For additional information about the LEAP Africa Fellowship Program, visit the LEAP Africa Website  to participate or send an email to [email protected].