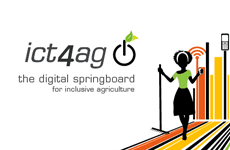 Application Deadline: 15 August 2013
Co-hosted by CTA and the Rwandan Ministry of Agriculture and Animal Resources (MINAGRI) and supported by an impressive array of international organisations, the international conference ICT4ag offers participants the opportunity to discover exciting opportunities and cutting edge technologies. Representing the public and private sector in Africa, the Caribbean and Pacific and further afield, delegates will discuss how increased investment and adoption of ICTs in the agricultural sector will contribute to improved value chains as well as more effective advocacy and policy processes in agricultural and rural development.
In addition, they will share ideas and knowledge, discuss new approaches, best practices and experiences. Issues related to ICT trends and their impact on agriculture, capacity building, enabling environments, scaling up and sustainability will also be discussed.
The Competition

The competition is aimed to encourage ACP journalists working for ACP print and online media to investigate the challenges and opportunities for ICT contribution to agriculture and showcase success stories, best practices as well as challenges and opportunities.
Focus areas: The journalists are required to submit original unpublished articles with concrete examples, which correspond to one of the three areas below:
Enabling environment for the agricultural sector to maximise the benefits from ICTs
Gender mainstreaming through ICTs for efficient/effective agricultural activities
Use of ICTs to boost access to markets and facilitate agribusines
Main evaluation criteria
a.            Good understanding of challenges and opportunities of ICTs in agriculture
b.            Originality of topic/approach
c.            Quality of structure
d.            Quality of language (engaging writing style, good spelling and grammar, etc.)
e.            Depth of analysis
f.             Relevance of examples and testimonies
g.            Presence of bibliography and/or other relevant references
h.            Respect of the prescribed format of the text
Eligibility
The competition is open to journalists who are nationals of ACP countries working for print or online media.
Submission
Type of articles:  you can chose one of the following types
Analysis paper:
Field report
Opinion pieces
Format:
In English or French language
Number of words: between 1,200 and 1,500.

Font: Arial;
Size of characters: 11
Line spacing: 1.5
Document in MS Word
Inclusion of original infographics is allowed

Additional document required: one page biography of the author
Deadline:
Your article in English or French language must reach the organizers by 15 August 2013 to be considered for inclusion in the conference. Applicants can submit their entry in French or English to   [email protected] with a copy to   [email protected] .
Note:
We do not accept audio or video entries, nor question and answer type of text.
Selection Process
An international panel of judges from the media will review and score submitted articles and make recommendations to CTA.
Awards and Prizes
The top six finalists will be announced in September, 2013. The six finalists will be fully supported to attend the international conference on ICT4ag in Kigali, Rwanda. They will also each receive Euro 1,000 (one thousand) prize.
During the conference, the six finalists will be asked to write an original article based on one topic discussed during the conference, taking into account expert opinions case studies and arguments.
The top three "Winners" will be announced during the international conference on ICT4ag. They will be selected based on the above mentioned criteria. The overall "Winner" – 1st place, will receive an additional Euro 1000. The second place winner will receive an additional Euro 500. The third place winner will receive an additional Euro 300. The top 3 "Winners" will also receive CTA trophies and book prizes.
The prize giving event will take place on 7 November 2013 in Kigali, Rwanda, during the International Conference on ICT4ag.
Additional Rules
The Technical Centre for Agricultural and Rural Cooperation reserves the right to disqualify any entry if it does not meet the present guidelines;
By entering, participants warrant that their entry materials are original and unpublished, and do not infringe on any third party's rights;
Entry to the contest constitutes an agreement to allow CTA to make, if necessary, articles, name, occupation and state of residence of applicants, public;
In addition it constitutes an agreement to allow CTA to publish the articles and infographics in its print and online publications and in the framework of promotional activities. Applicants will retain copyright and all other rights to future use of their articles and infographics;
CTA will not be obliged to return submitted articles to their authors;
All local taxes and fees on awards and prizes are the sole responsibility of the winner;
If, for any reason, the competition is not completed as planned, CTA reserves the right at its sole discretion to cancel, terminate, modify or suspend it;
The decisions made by the panel of judges and CTA are final and beyond dispute;
All participants in this competition implicitly accept the guidelines presented in this document.
*ACP Countries
"ACP" stands for Africa, Caribbean and Pacific countries who are signatories of the ACP-EU (European Union) Cotonou Agreement. ACP countries are the following: South Africa – Angola – Antigua and Barbuda – Bahamas – Barbados – Belize – Benin – Botswana – Burkina Faso – Burundi – Cameroon – Cap Vert – Chad – Comores – Central African Republic – Congo (Brazzaville) – Congo (Kinshasa) – Cook Islands – Cuba – Djibouti – Dominican Republic – Dominica – East Timor – Eritreia – Rwanda – Equatorial Guinea – Fiji – Gabon – Gambia – Ghana – Grenada –Guinea-Bissau – Guyana – Haiti – Ivory Coast – Jamaica – Kenya – Kiribati – Lesotho – Liberia – Madagascar – Malawi – Mali – Marshall Islands – Maurice – Mauritania – Federated States of Micronesia – Mozambique – Namibia – Nauru – Niger – Nigeria – Niue – Palau – Papua New Guinea – Republic of Guinea – Rwanda – Saint Christopher and Nevis – Saint Vincent and Grenadines – Saint Lucia – Samoa – Sao Tome – Senegal – Seychelles – Sierra Leone – Solomon Islands and Principe – Somalia – South Sudan – Sudan – Suriname – Swaziland – Tanzania – Togo – Tonga – Trinidad and Tobago – Tuvalu – Uganda – Vanuatu – Zambia –Zimbabwe