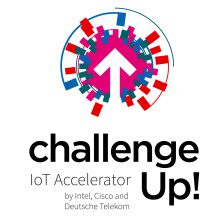 Application Deadline: May 25 2015
Cisco, Intel and Deutsche Telekom launched Challenge Up! Challenge at the Mobile World Congress (MWC) event in Barcelona, It is a joint Internet of Things (IoT) accelerator for startups from the Europe, Middle East and Africa (EMEA).
Challenge Up! is the most innovative corporate start-up program of 2015, by Intel, Cisco & hub:raum powered by Deutsche Telekom. Want to share your idea? Enter the game!
The main objective of this program is to help innovative IoT/IoE startups to go-to-market faster through joint projects, mentoring, high-value networking and corporate assets. Selected companies may also receive strategic investments and support commercializing their product or service for global markets.

Challenge Up! is designed for early-stage startups creating solutions for the Internet of Things/Everything (IoT/IoE) and related areas, including:
Connected and Smart solutions (Smart home, Smart city, Smart energy, Connected Cars, Wearables, Industry 4.0),
Information Security,
Big Data,
Analytics,
Connectivity,
Cloud Computing.
Check out how your idea can evolve and be launched into the market.
Simply enter the game and face the challenge! What can you win? A lot! From intensive coaching, mentorship sessions, workshops, tailor made advices followed by customized solutions, up to a chance of strutting your stuff in the right place – Challenge Up! Summit.
Challenge Up will provide you with essential know-how and resources adjusted to your needs and therefore develop your project in the most efficient way.
Key elements of this program are:
TURBO Acceleration Week (to be held June 22-26, 2015)
A tailor-made, 4-month incubation program (July to October), taking place in Krakow, Berlin and Vienna.
No strings attached: selected startups do not have to worry about fees, they participate for free with no equity required and keep their own intellectual property.
Join the Challenge Up IoT Accelerator Challenge Now
For More Information:
Visit the Official Webpage of the Challenge Up IoT Accelerator