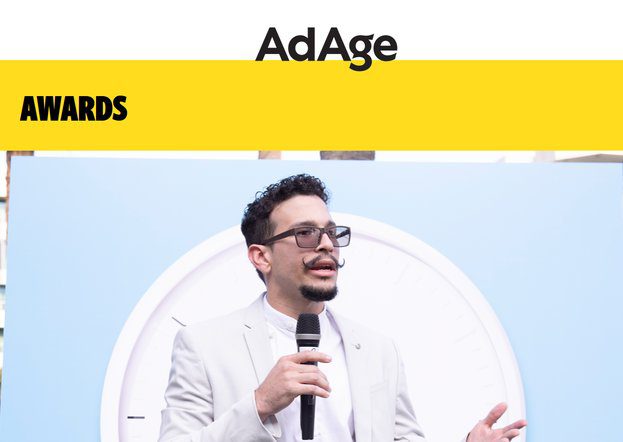 Application Deadline: April 25th 2019
Since 2010, Ad Age has celebrated rising industry talents with our annual Young Creatives Cover Contest. Each year, we ask creatives and execs under 30 to create an image for the cover of our magazine, distributed at the Cannes Lions International Festival of Creativity. The winner also gets a trip to see their work on display a the annual ad fete in France.
Since the contest debuted, we've asked competitors to capture the idea of creativity in a single, impactful image. Last year, inspired by the powerful movements we'd seen with #MeToo, March for Our Lives and others, we ask you to create with an important cause in mind. 
For Ad Age's Tenth Anniversary Young Creatives Competition and in the spirit of Project #ShowUs, we want you to create a cover that speaks to the power of truthful representation in Creativity and advertising. 

Requirements:
The Ad Age Young Creatives Cover Competition is open to students, full-time agency creatives and freelance creatives who are age 30 or under at the time of the 2019 Cannes Lion International Festival of Creativity (June 17-21, 2019). You must be 30 or younger on June 21, 2019.

In the spirit of Cannes' own "Young Lions" competition, our contest is designed to tap into the talent of young creatives, inspire them to join in important industry gatherings and offer a career-enhancing opportunity to those who are still junior in the business and not as likely to have agency financial support for a trip to the festival.

Ad Age will announce a number of finalists, but only one winner (or creative duo) will be selected.
Prizes
The winning entry will be used as the cover image for the Ad Age Creativity issue, published June 10, 2019. This issue is sent to all Ad Age subscribers and distributed at the Cannes Lions International Festival of Creativity, held June 17-21, 2019. In addition to the grand prize winner, we will also announce a number of finalists.

The winner (or winning duo) will receive a free trip to the 2019 Cannes Lions International Festival of Creativity to be inspired and connect with some of the most creative minds working today.
The brief:
Create an Ad Age cover image that communicates the power of truthful representation in advertising, creativity or the broader cultural world. For example, in the vein of Dove's ongoing dedication to "Real Beauty," it might inspire others to think about the destructive effect of beauty stereotypes and/or alternatively, how more inclusive ideas can benefit society. Or, thinking more broadly, it might communicate the impact of transparency and authenticity today in a world cluttered with so many messages.
Participants are encouraged, but not required to use an image or images from the Project #ShowUs collection. These images are decidedly un-distorted, so if you do decide to manipulate those images in some fashion, make sure your final cover speaks directly to the above requirements. The #ShowUs collection can be found at www.gettyimages.com/showus Please feel free to use low res watermarked comps from #ShowUs at Getty Images for your entry to the contest*. Should you win, we will provide the hi-res version of your chosen image.
Be clever and avoid cliches. Dispense with obvious tired metaphors associated with the brief. For example, if you are looking to illustrate the idea of "shattering cliches," think twice before you decide to incorporate things like broken mirrors or shards of glass.
*Use of such images is subject to the Getty Images Content License Agreement. All Getty images can be found here: www.gettyimages.com/showus
Please download the below PDF for all design specs and info regarding your submission:
For More Information:
Visit the Official Webpage of the Ad Age's Young Creatives Cover Competition 2019