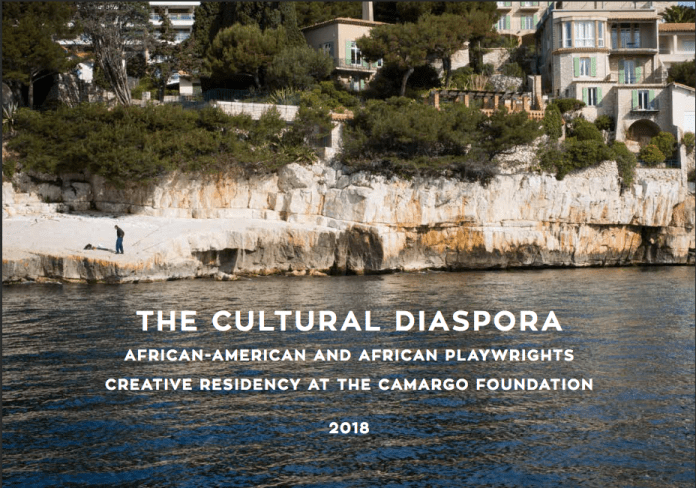 Application Deadline: October 19, 2017 (midnight Paris time).
The Camargo Foundation, with generous support from the National Endowment for the Arts and the Jerome Foundation, is excited to announce a four-week residency program for mid-career/established African-American and African playwrights.
Four participants from the United States and four from the African continent, all of whom are interested in the intersection and interaction, whether historic or contemporary, between the United States and Africa, will be hosted at the Camargo Foundation in Cassis, France.
In recognition of the various ways in which theatre is created, an expanded version of "playwrights" will be used for this program.
Eligibility Requirements:
The program welcomes applications from black playwrights who are citizens of the United States or of an African country.
• Eligible applicants have an interest in the African diaspora as an influence and factor on their craft, work, and thinking.
• Eligible applicants are established or mid-career artists who assume primary responsibility for creating the texts of theatrical productions and/or performance. This program recognizes that practice is increasingly interdisciplinary (including performances that embrace a combination of live theatre/dance/film, for example), can include both spoken and musical work, and can assume different scales and forms (from solo performances to story telling to large scale theatrical spectacle).
This program is designed for artists who play a primary or exclusive role in creating the text component of live theatrical or performance work where spoken language is a critical and primary component, whatever the scale and form. Text creators of course may play additional roles, such as directing, designing and/or performing without compromising their eligibility. Actors, choreographers, designers, directors, etc who have not been a primary creator of texts, however, are not eligible to apply.
Eligible applicants have had at least three different texts/plays fully produced for public audiences.
• If prior grantees of the Camargo Foundation, Jerome Foundation or National Endowment for the Arts, eligible applicants have successfully complied with all reporting requirements, including (where applicable) submission of all required final reports.
• Students enrolled in undergraduate or graduate degree programs at the time of application are not eligible to apply.
• Eligible applicants are at least 21 years old at the time of application.
• Work developed during the residency may be in any language. In the interests of Camargo's interdisciplinary, multicultural community, eligible applicants are able to communicate well in English. A basic knowledge of French is useful, but not required.
DURATION, STIPEND, AND ACCOMODATION
DURATIO N
The program will take place from May 28 to June 25, 2018.
STIPEND
Each of the eight participants will receive plane fare, local transport to and from the home airport and Camargo, and both a stipend of $1,000 US and an honorarium of $1,000 US (making a total of $2,000 US per playwright/text creator) to participate.
ACCOMODATION
Each artist will be provided a furnished apartment. The apartments are intended as the workspace for writing and electronic media. Additional workspace at Camargo may also be available, such as the library, or the painting studio and rehearsal space with a piano. Residents are expected to prepare their own meals.
ACCOMPANYING FAMILY MEMBERS
Spouses/adult partners and dependent minor children may accompany fellows for short stays or for the duration of the residency. Accompanying children must be at least six years old upon arrival and enrolled in and attending school or organized activities outside the Camargo Foundation campus, during the week.
How to Apply;
DEADLINE Applications must be submitted no later than October 19, 2017 (midnight Paris time). Late applications will not be reviewed.
APPLICATIONS
Applications should be submitted via Submittable and can be accessed at: <https://camargofoundation.submittable.com/submit> Applications must include the following:
1. Proposal Name;
2. Proposal Summary (up to 100 words): a brief summary of the proposed project or possible areas of research that you would like to engage in during this exchange;
3. Proposal Narrative and Relevance of Resources (up to 1,000 words): please describe in detail any proposed project or possible areas of research you would like to engage in during this exchange. Please articulate specifically how the resources provided by the Camargo Foundation will support your proposed project or research;
4. A rationale (up to 300 words) for wanting to participate to the program (up to 500 words): please describe how your work expresses an interest in the African diaspora as an influence and factor on your craft, work and thinking;
5. A current CV, including a list of plays fully produced, with year of first full production;
6. Work samples, either in the form of written work sample, audio recording, or video. Recent work is strongly encouraged, but applicants should feel that the samples represent fully accomplished and finished work; works in progress are strongly discouraged. All work samples should be drawn from work created in the last five years. All panelists will read at least 10 pages of all scripts and/or view up to 5 minutes of a recording. Applicants who choose
to submit a full script or longer performance tape should specify which 10 pages (or 5 minutes) the panel should read (or view), and attach a short description. The applicant must be the primary creator of the submitted sample. Student work is not acceptable.
7. Two references : submitters whose applications manage to get to the final stages of review might be asked to provide recommendation letters from their referees at a later stage. Technical questions about the application should be directed to <
[email protected]
>