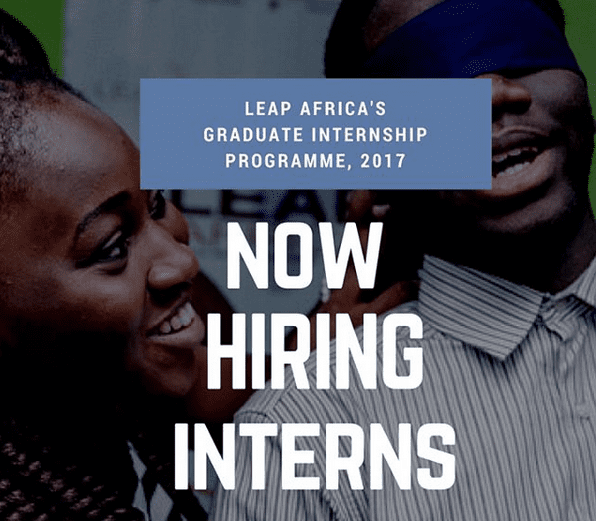 Application Deadline: Tuesday, May 2nd 2017.
LEAP Africa's Graduate Internship offers a unique opportunity for highly motivated, innovative, and leadership savvy graduate students to work in an innovative business environment while gaining valuable operational and leadership experience.
Interns will have the opportunity to participate in many exciting activities designed especially to enhance their knowledge of LEAP Africa and our projects. Our ideal interns must have keen project management acumen, strong analytic skills, tremendous drive for results and unparalleled curiosity and focus.
LEAP Africa are looking for an innovative, passionate individual who can;

Monitor and evaluate existing projects with or without supervision
Communicate effectively with stakeholders
Develop and market leadership programmmes
Facilitate trainings
Create basic graphic designs
Carry out independent research and design curriculum
Video Challenge
Step 1: Create a Video on why you are the best person for the role.
Step 2: Upload video to Youtube and share the link
Creativity Challenge
Step 3: Design a PowerPoint presentation on the topic "Channeling creativity for social change".
 Personal Data
Kindly note that you are required to send a hand held video using any device of your choice. Video may not necessarily be professionally produced.
Email PowerPoint Presentation, CV and video with appropriate subject "Internship at LEAP Africa" to [email protected].
Applications close on Tuesday, May 2nd 2017.
NOTE: Only shortlisted candidates will be contacted
For More Information:
Visit the Official Webpage of the LEAP Africa Graduate Internship 2017