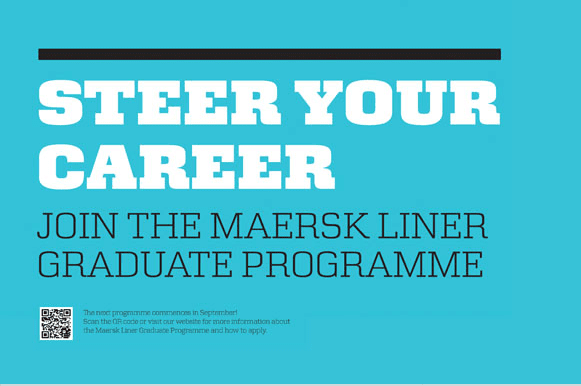 Application Deadline: May 15th 2016
Do you want to join an industry with a profound impact on the lives of millions of people globally?
Do you want to kick start your career in a fast track graduate programme, take on high-impact assignments and challenges and make a difference in a global arena?
If you thrive working with others, have a can-do attitude and have the ambition and passion to excel, the Maersk Line Graduate Programme (MLGP) can offer you the perfect opportunity to build a long-term, varied and meaningful career in an international environment.
Maersk Line is part of the Maersk Group, headquartered in Copenhagen, Denmark. The Group employs about 88,900 people in around 135 countries.
The MLGP – Commerical is designed to provide a structured, accelerated and ambitious graduate development programme for bright and dynamic professionals across a range of Commerical disciplines. The programme will support and challenge you through learning and talent practices to ensure that developmental opportunities are maximised to the benefit of both the participants and the company.

The Task
A challenging and rewarding opportunity where we will provide you with the framework to build a long-term career in the global trade and transportation industry. During the Graduate Programme, you will have vast opportunities and be part of a truly international group of passionate and ambitious professionals. Together you will:
•Build your knowledge from working with world-class experts within the shipping and business fields, in your rotational assignments and in the four global MLGP seminars.
•Build a global network that you can leverage in your future interactions to enable collaboration and career.
•Be significantly exposed to high-level leaders to ensure that theoretical insights are continuously linked to concrete business challenges.
•Become part of a diverse team where we play to win and 'we' always comes before 'I'.
Requirements:
Master's level education in Business or related discipline with a maximum of 3 years' commercial work experience after graduation in parallel with education or between degrees.
•Ambitious individual with a passion and drive to excel.
•An international mind-set and excellent command of English (both spoken and written).
•A pragmatic and holistic thinker.
•Resourceful and flexible with strong capabilities to prioritise, optimise and perform in a high-paced environment.
•Strong desire to pursue a long-term career within the commercial part of the business.
•International mobility and travels are expected.
Key Responsibilities
•You will join a team of colleagues who have robust functional acumen, strong insight, informed opinions and passion for the dynamics behind global trade. Together you will collaborate in executing strategies and reaching the business objectives of your assigned department.
•You will take part in four seminars across Asia, Europe and North America, where you will receive knowledge and business insights into the Shipping Industry. The seminars will challenge and inspire you to enhance your personal competences, and deploy them in your rotational assignments.
•You will steer your career. We provide you with a framework of business insights and developmental support. With continual support from your manager and HR, we empower you to be the captain of your career by delivering, learning and reflecting on your own development.
For More Information:
Visit the Official Webpage of the Maersk Liner Graduate Programme