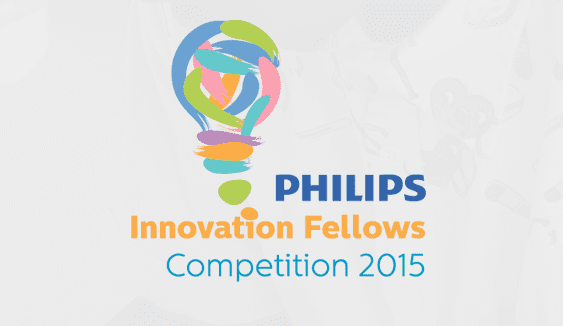 Application Deadline: 23 September 2015
Do you have the #nextbigidea for meaningful innovation?
Philips is giving R200,000 to the #nextbigidea in improving access to primary healthcare
According to a pan-African research commissioned by Philips, nearly 52% of Africans consider themselves innovators, and 43% believe they are sitting on an idea for "the next big thing," and just need money and know-how to develop it.
70% of those surveyed indicated that Healthcare was the area in which innovation could improve lives.As a result, Philip is launching its first "South African Innovation Fellows Competition"
Phillips is calling on you to submit your ideas for products and services that will improve access to primary healthcare. Do you have an idea for the next big thing in healthcare? Do you want to help change the world? If so, we want to hear from you.

Eligibility Criteria:
The Philips "South African Innovation Fellows Competition" is open to all South African Citizens or permanent residents from age of 18 years (individuals, small teams and start-ups).
Philips is calling South African innovators to submit their ideas for products and services that will help to improve primary healthcare access for fellow Africans.
Do you have the next big idea for meaningful innovation addressing one of the following themes?
1. ICT solutions to improve access to healthcare
2. Solutions to improve care delivery
3. Healthcare imaging for low resource settings utilizing smartphones
4. Diagnostic tools for low resource settings
5. Innovations for healthy living for mother and child
Application Process:
Phase 1 – Submit an idea
Interested participants can register at www.innovationfellows.co.za and submit their #nextbigidea in word or pdf addressing the following topics:
1. The challenge being addressed
2. The technology solution proposed
3. The social impact expected
Please remember The South African Innovation Fellows competition is looking for the best products, services and tangible ideas that address the issue of improving access to primary healthcare.
If your idea is selected, you will receive an e-mail confirmation about how to move onto Phase 2 of the competition.
Entrants will be judged on the quality of the overall idea as well as the proof-of-concept (implementation) demonstrated.
Applications can also be sent via email from 19 August 2015 to 23 September 2015 to :

[email protected]
Phase 2 – Finalists selected and notified
Philips in collaboration with the Innovation Hub, Pretoria will announce five finalists on Wednesday, 30 September 2015; entries will be evaluated and judged by the Philips Innovation Fellowship Adjudication Steering Committee.
Selected finalists will be notified via email; all other participants will also get an email informing them that their entries were received but did not make it to the final shortlist.
Each finalist will receive a Rand 12,000 cash prize
Training will be provided by domain experts for the top-5 shortlisted entries to develop their ideas, business plan and presentations.
Top five finalists will have the opportunity to share their plans with the media and a panel of Innovation experts at the "Philips Innovation Talk", a discussion session with experts in the field of Innovation being planned for 8th or 9th October 2015. (Dates subject to change)
Phase 3 – Winner selected/Prize
The final winner of the fellowship will be announced by the Philips Innovation Fellowship Adjudication Steering Committee on 10, November 2015.
One grand-prize winner (from the short-listed five finalists) will receive a fellowship grant of R200,000 and mentoring from Philips.
In addition, the winner will get mentored by The Innovation Hub in Pretoria and will be coached in the startup phase of his/her idea.
The fellowship grant amount of R200,000 will be available as a research & development budget to develop the concept in collaboration with Philips, owned by the entrepreneur.
The winner will be able to spend this fellowship grant of R200,000 to get support from the Philips Africa Innovation Hub based in Kenya to create a prototype of the idea; if a prototype exists, the fellowship grant will be used for the creation of a go-to-market strategy for the concept in collaboration with the Philips Africa Innovation Hub.
For More Information:
Visit the Official Webpage of the Philips South African Innovation Fellows Competition