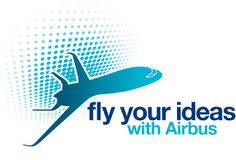 One of the world's leading aircraft manufacturers,  invites entries for its 2013 Airbus Four Ideas competition.
Airbus wants students to propose ideas for the six key challenges for aviation in the 21st century. Airbus Fly Your Ideas challenges students across the globe to develop new ideas for the eco-efficient aviation industry of the future.
Who
Fly Your Ideas is open to teams of three to five students of any nationality or discipline. You can create a team with friends on campus, or with other like-minded students from anywhere in the world.
To qualify, each participant must be studying a Bachelors, Masters or PhD-level qualification and must be a registered student at a recognised degree awarding institution until 30 April 2013.
We cannot accept participants who are currently in employment, or students who are on an Airbus or EADS-funded internship, scholarship, apprenticeship or other work experience programme.
What
Contesting teams are expected to come up with an innovative idea which should address one of these six challenges/categories.
Categories
Energy
Energy Efficiency
Affordable Growth
Traffic Growth
Passenger Experience
Community Friendly
Other
Prizes
Winning Team: €30,000;
Runners-up: €15,000.
Other Benefits
 Mentoring from Airbus staff and feedback from assessors on your proposal.
Guidance from an expert at key stages of the competition .
The opportunity to enhance your creativity and innovation
Information and insight on the aviation industry, and what Airbus is working on.
The chance to improve your skills: for example project management, presentation and teamwork skills

Important Dates :
Registration 19 June 2012 – 30 November 2012
Round One – 3 September 2012 – 7 December 2012
Round Two – January 2013 – April 2013
Round Three – May 2013 – June 2013
Final presentation and awards – TBC
Not sure if you can participate? Ask for more information here
Visit the Airbus Fly Your Ideas Competition Website to begin your Application.
All the Best ~ OFA.