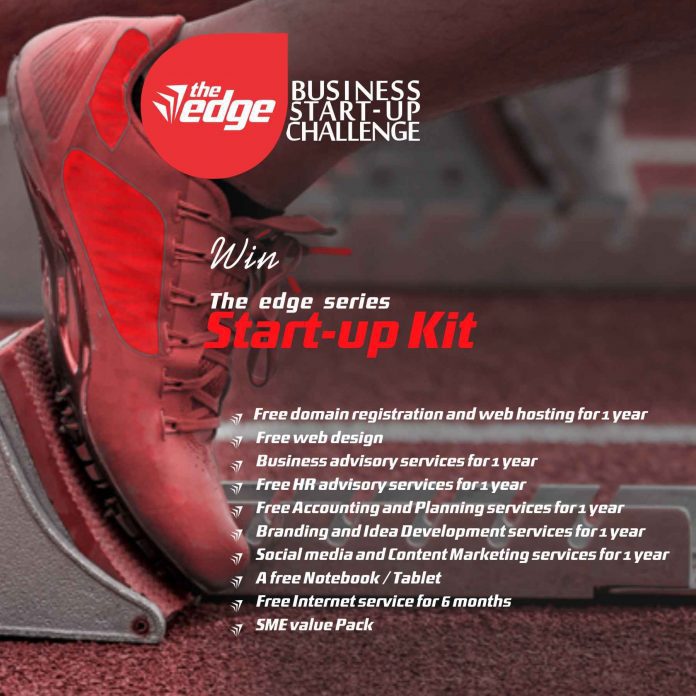 Submission Deadline: 11.59PM, THURSDAY 14TH JULY, 2016.
As part of the plans to not just talk but act, the student summit this year intends to help Five (5) new businesses kick-start by way of THE EDGE SERIES BUSINESS START-UP CHALLENGE.
With support from our partners and sponsors, The Start-up challenge will be an open call for an executive summary by intending participants to share their business ideas with a team of experts who will skew through the list of entries. The best 50 entries who will make a physical pitch to the panel would be selected out of which 5 winners will be selected. The winners would be awarded THE EDGE SERIES Start-up Kit valued at =N= 3,000,000.00
Benefits
This kit includes:
Free domain registration and web hosting for 1 year
Free web design
Business advisory services for 1 year
Free HR advisory services for 1 year
Free Accounting and planning services for 1 year
Branding and Idea development services for 1 year
Social Media and Content marketing services for 1 year
A free Notebook/ Tablet
Free Internet service for 6 month
SME value Pack
How do I Participate?
In accordance with the theme of this year's summit which is WHAT ARE YOU SAYING?, the contest is divided into three stages:
1. WHAT ARE YOU SAYING – WRITING:
At this stage the participants are expected to put up an executive summary of not more than one page and submit same to [email protected] PLEASE NOTE THAT ENTRY SUBMISSION CLOSES 11.59PM, THURSDAY 14TH JULY, 2016. 50 Shortlisted candidates will scale through to the 2nd stage.
2. WHAT ARE YOU SAYING – PITCH:
The 50 Shortlisted candidates will each make a 10 minutes pitch to a panel of experts selected from various field including finance, Project management, Information and Communication Technology, and some serial Entrepreneurs. 10 candidates will be selected to go the final stage
The 10 shortlisted candidates will then put the learnings from their Pitch stage to close their presentation from which the 5 top businesses will be selected
WINNERS WILL BE ANNOUNCED ON THE 29th of JULY 2016 at the 3rd Edition of The Edge Series Student Summit 2016 at the Shell Hall, Muson Centre Onikan Lagos.
THE EDGE SERIES BUSINESS START-UP CHALLENGE is supported by:
The Lagos State Government
Lenovo
Microsoft
MTN Nigeria
Jobberman.com
WhoGoHost
Inspiro Consulting
SDI Consulting
TISV Digital
Komet Creative Studios
 For More Information: