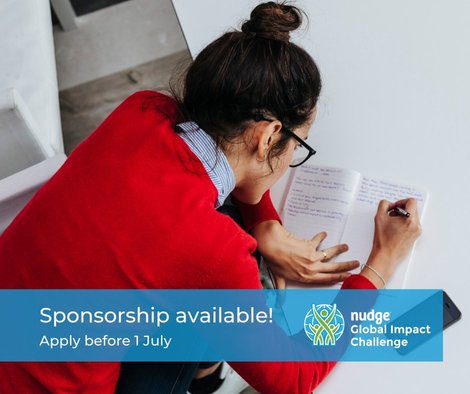 Application Deadline: July 1st 2020
90 young professionals from around the world team up to learn about leadership, sustainability and impact
An online personal development programme from August 2020 – April 2021 with a 'Grand Finale' in the second quarter of 2021 in the Netherlands
The Nudge Global Impact Challenge team wants to confirm that the Challenge will continue as scheduled starting 17 August. In view of the current circumstances, the four-day learning experience in the Netherlands (initially planned two months after the start of the programme, 19 – 22 October) will be reshaped into an online programme from October 2020 – April 2021.
The components of the learning experience will instead be spread over a seven-month period (October 2020 – April 2021). Participants will take part in activities such as individualised coaching sessions, learning modules with top sustainability and leadership experts, and connecting with peers in networking meetups. On 21 and 22 June 2021, a 'Grand Finale' closure event will take place in the Netherlands including the Nudge Global Impact Awards night in the Peace Palace in The Hague.
Theme 2020: Prosperity for all
Young leaders building a better world for people and our planet
When aiming for prosperity for all, we work towards a world in which there is no poverty. A world where inequalities are reduced. Where education, healthcare and basic human rights, such as clean water and sanitation, are accessible for everyone.

However, this must be done within the planetary boundaries. The 'all' have to include future generations and all species that are dependent on, and crucial for our planet's ecosystem.
To accomplish this there is a need for leaders who work together towards a sustainable and inclusive future. Leaders who are not afraid of change, but rather see it as a powerful tool to create impact towards a world they want to live in. To achieve well-being for all.
Requirements
Young professionals with the ambition to change the world for the better and eager to create the impact they envision. Does this sound like you? Then read on!
You have at least a Bachelor's degree or equivalent, you are between the age of 23 and 33, and fluent in English (verbal and written). Above all, you have a clear passion for sustainability, you want to develop your leadership skills, and you are eager to make an impact.
For More Information:
Visit the Official Webpage of the Nudge Global Impact Challenge 2020