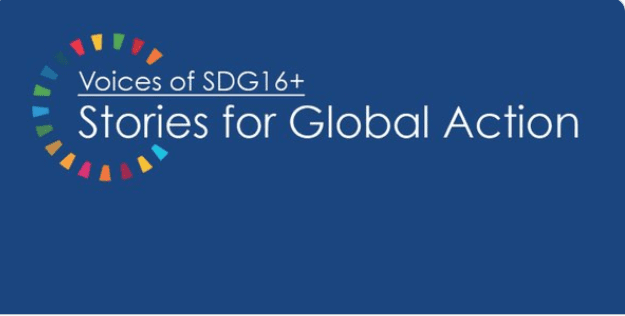 Application Deadline: Wednesday May 15th, 2019 by 6:00pm EST
Voices of SDG16+ Stories for Global Action is asking for submissions of short videos to tell your story. From small initiatives making a difference in your community, to a national awareness-raising campaign, to work at a global or regional level – the best videos will be showcased at an event during the United Nations High- Level Political Forum in July, with selected candidates sponsored to attend in person.
Entries should also:
Demonstrate how you have worked to achieve peace, justice, and inclusive institutions through action in your community
Tell us and show us who is doing the work
Briefly explain (and if possible show) the context you are working in and challenges you face.
Demonstrate what is being done to address these challenges, and how SDG16+ has helped in overcoming them
Mention how this action can continue in the future.
Eligibility criteria

Entrants must:
•provide relevant information in line with the format required for entries;
•read all supporting materials before submitting an entry;
•submit their full entry before the deadline (Wednesday May 15th, 2019 by 6:00pm EST);
•be able to travel to New York for at least July 10th2019 until July 13th2019should their project be shortlisted;
•give consent for the information they provide to be uploaded onto the Campaign Partnerswebsite, social media channels, and affiliated campaign websites;
•give consent for potential media coverage of their organisation's project;
•Contestants must be at least 18 years old on the date of entry into the contest.
Benefits
The chosen entries will be showcased at an event at the UN High-Level Political Forum in New York in July 2019.
A selection of chosen entries will be sponsored to attend the event during the UN High- Level Political Forum in July 2019 in person.
Runner-up entries will be shared on the social media channels of partner organizations. By submitting an entry, you give permission for your video to be shared and used with the appropriate credit.
You may submit more than one entry showcasing different stories of your SDG16 work.
Entrants are free to use the title "Voices of SDG16+: stories for global action" in publicity for their video once it has been submitted.
Submission process
Only entries submitted via the correct platform will be considered.
The video must be no longer than four minutes. Entries that do not adhere to this will not qualify.
If it is found that any entrant has knowingly provided false information, the entry will be disqualified.
Include a brief written description supporting your video submission.
Please title video submission as: name of organization_video
For More Information:
Visit the Official Webpage of the Voices of SDG16+ Stories for Global Action