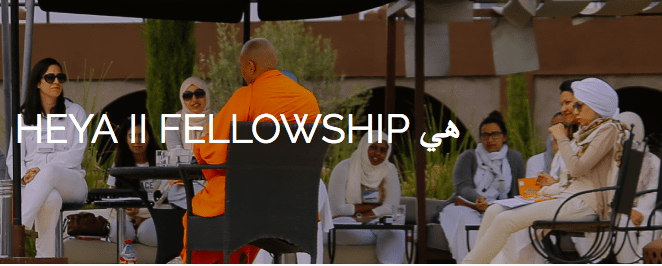 Application Deadline:  12th January 2017
Eligibility Deadline : 5th February 2017
What: Heya II Fellowship هي
Where: Oman, 14-18 April 2017
Are you a female leader who is actively involved in social work and have the passion for social change? Do you want to reveal your inner power? Then this Fellowship is for YOU!!
Heya Fellowship is the first of its kind in the region to nurture the space for women for inner transformation through self-development and meditation which will eventually lead to community transformation.
Following the success of the first Heya Fellowship last year in Morocco, World Peace Initiative Foundation continues to run this project and support young women to empower themselves and impact their homes, families and communities by strengthening their personal growth and trusting their inner power through meditation and self-development as well as promoting solidarity.

Eligibility Requirements:
To be eligible, applicants should:
Nationals and residents of these countries: Algeria, Bahrain, Egypt, Iraq, Jordan, Kuwait, Lebanon, Libya, Mauritania, Morocco, Oman, Palestine, Qatar, Saudi Arabia, Somalia, Syria, Sudan, Tunisia, United Arab Emirates, Yemen, Comoros, Chad and Djibouti.
Age required between 20-32 years old at the time of application submission in order to receive the airfare support.
Completed the 21 days of the online self-development program.
Young female leaders who have the passion for social change and actively involved within the spheres of politics, society, culture, peace-building and media among others.
Good proficiency in written and spoken English and Arabic.
Commitment fees of 200 USD. The fees are a contribution that needs to be paid before the arrival to the retreat site, /by Bank transfer or Western Union
*Important Note: Those residing in the countries other than the eligible countries mentioned above will not be considered! exceptions can be made for refugees who are from one of the eligible countries but live elsewhere.
Benefits:
Heya Fellowship covers:
Sponsorship of airfare (up to 700 USD depending on the residing country)
Local Transportation
Food & Accommodation
Meditation Sessions and Lectures
Yoga Classes
Interactive Workshops
Heya Fellowship DOES NOT Cover:
Transportation within participant's country
Visa costs
Personal expenses
Participation fee of $200
For More Information: