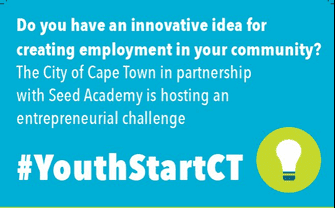 Application Deadline: Sunday, 24 April 2016.
The #YouthStartCT Challenge serves as an accelerator programme for start-up entrepreneurs aged from 18 to 35. The main aim of the competition is to contribute to business skills development, innovation and the growth of entrepreneurs in Cape Town. The programme is being run in support of capacity development and job creation.
Entrepreneurship is key to the national agenda for the alleviation of poverty, unemployment and inequality in South Africa. In the context of this aim, and with a focus on youth development in Cape Town, the City of Cape Town's Social Development and Early Childhood Development Directorate in partnership with Seed Academy will be hosting the #YouthStartCT Entrepreneurial Challenge 2016.
Requirements:

The competition is open to South African individuals and teams, provided that the principal team member and the bulk of the project activities take place within the boundaries of the City of Cape Town.
Participants should be 18 to 35 years of age.
Benefits:
The winners will be given the chance to partner with the City of Cape Town on projects which will uplift job seekers and provide sustainable employment opportunities.
R100 000 worth of prizes will be shared among the top 3 winning job creation ideas.
In addition, participants will benefit from training and entrepreneurship development opportunities that will kick-start their careers.
How to Enter:
Come up with an innovative idea for creating employment in your community.
Make a short video explaining your idea and upload it to a public platform (e.g. YouTube).
Complete the #YouthStartCT application form.
Submit your application.
For More Information:
Visit the Official Webpage pf the YouthStartCT Entrepreneurial Challenge