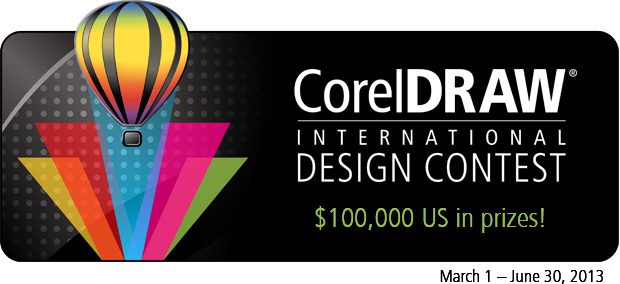 Submission Deadline: June 30 2013
With a total of $100,000 US in prizes and a Grand Prize valued at $28,450 US, the 2013 CorelDRAW® International Design Contest is one of the industry's biggest competitions!
The CorelDRAW International Design Competition 2013  categories include: Advertising, Fashion, Vehicle Wraps, Illustration and Fine Art, plus a category just for Students and an all-new category for Speed Drawing. It's the chance for designers and artists of all backgrounds and skill levels to gain global exposure for their work and win valuable prizes.
A total of $100,000 US in prizes up for grabs
Earn worldwide recognition for your work
Get inspired by CorelDRAW users from around the globe
Discover the all-new features of CorelDRAW® Graphics Suite X6
[embedplusvideo height="298″ width="480″ editlink="http://bit.ly/11PUhM0″ standard="http://www.youtube.com/v/-02L3CsnbpQ?fs=1″ vars="ytid=-02L3CsnbpQ&width=480&height=298&start=&stop=&rs=w&hd=0&autoplay=0&react=1&chapters=&notes=" id="ep3605″ /]
Prizes
With a total of $100,000 US in prizes up for grabs, this year's CorelDRAW International Design Contest is a great way to put your name in the spotlight and win big at the same time!
Grand Prize
With a total approximate value of $ 28,450 US, the Grand Prize winner receives the following:
A Roland VersaStudio BN-20 Desktop Printer/Cutter
Wilcom EmbroideryStudio with 16 Elements (Creativity, Productivity & Decoration*)
$10,000 USD in cash!
*Does not include Chenille and Schiffli
Categories
Enter your work in any of the six categories below:
Advertising/Specialty Graphics: flyers, brochures, logos, signs, banners, awards, engraving, and other designs related to advertising, marketing or point of purchase (POP)
Vehicle Wraps: designs to be used for cars, trucks, boats or other vehicles
Textile/Fashion Design: designs for fashion, embroidery and direct-to-garment printing
General Illustration & Fine Art: artistic, creative and unique designs
Student: designs submitted by students who are formally enrolled in an educational institution. (Proof of enrollment may be requested from winners)
Speed Drawing: time lapse videos which are sped up to show how a work was created in CorelDRAW X6 or Corel PHOTO-PAINT X6 (maximum video length of 10 minutes. Designs submitted in another category may also be submitted in this category)
Enter Now  for the CorelDraw International Design Competition 2013