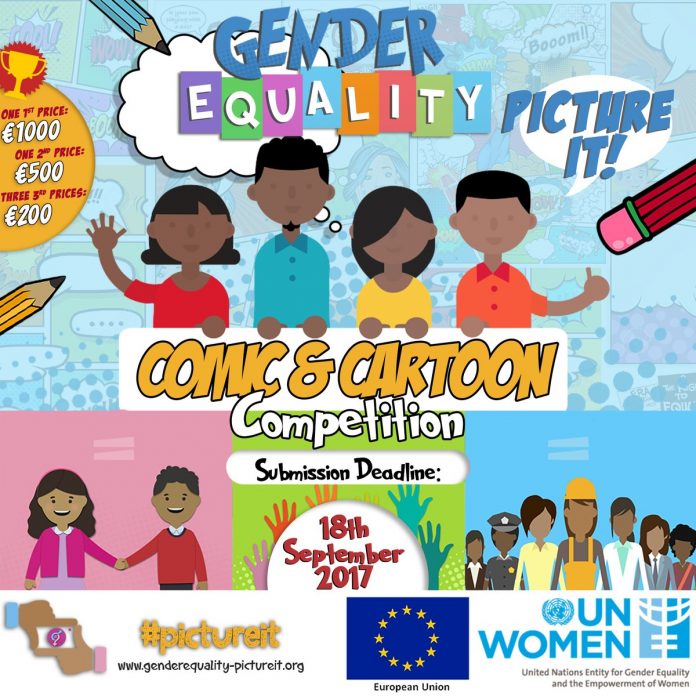 Application Deadline: September 18th 2017
The Delegation of the European Union to Nigeria and the UN Women Nigeria Country Office have launched a comic/cartoon competition on gender equality which aims to raise the awareness of Nigerian youth on gender issues.
The competition tagged Gender Equality: Picture It!, builds on a similar competition jointly organized in Belgium in 2015 by UN Women, European Union, Belgium government, and United Nations Regional Information Center (UNRIC).
The earlier comic competition was part of the UN Women's campaign Empowering Women – Empowering Humanity: Picture It! which celebrated the 20th anniversary of the Fourth World Conference on Women that took place in Beijing, China in 1995 (the Beijing Conference).
Participants are encouraged to familiarize themselves with the contents of the Beijing Declaration and its Platform for Action. The Platform for Action includes the following twelve Critical Areas of Concern, around which the Competition centres:
Women and the Environment
Women in Power and Decision-Making;
The Girl Child;
Women and the Economy;
Women and Poverty;
Violence against Women;
Human Rights of Women;
Education and Training of Women;
Institutional Mechanisms for the Advancement of Women; #
Women and Health;
Women and the Media;
Women and Armed Conflict
Participants will also draw inspiration from the European Union policy paper "Gender Equality and Women's Empowerment: Transforming the Lives of Girls and Women through EU External relations 2016-2020."
Eligibility of Participants
You must be between 18 and 28 years old as of August 31, 2017. You must provide your date of birth in the entry form.
You must be a Nigerian residing in Nigeria.
You must use your legal name and provide valid contact details along with your drawing(s).
Eligibility of Drawing
The drawing(s) must be without words.
Your Drawings must fit on one DIN A4 page (210mm x 297mm). Both portrait and landscape orientation are accepted.  If a drawing comprises several pictures, the number of pictures should not exceed six boxes and the complete drawing must fit on one DIN A4 page.
The resolution of the drawing(s) must be at least 150 dpi or higher. Data size is limited to 5MB per drawing.
Acceptable formats include jpg, jpeg, png and pdf formats only.
Your drawing(s) must not be in the determination of the Organizing Entities:
Be disrespectful of the impartiality and independence of the United Nations and the EU Delegation to Nigeria;
Reflect adversely on the Organizing Entities;
Be incompatible with the aims and objectives of the Organizing Entities;
Be derogatory to any persons depicted in the drawings;
Contain any nudity, lewd, or otherwise offensive or inappropriate content
Prize:
Finalists will be invited to the Competition Award Ceremony in Abuja, scheduled to take place in November 2017.
Travel and accommodation costs will be taken care of by the organising entities.  Prizes are set out as below:
One first prize of EUR 1000,
One second prize of EUR 500,
Three third prizes of EUR 200 each
Terms of Participation
To enter the Competition, you must upload your drawing(s) on the designated website at http://www.genderequality-pictureit.org . Only those entries uploaded on this designated website will be accepted.  Entry is free.
You may enter up to two drawings. You must enter all of your drawings at the same time.  You can only enter your drawing(s) once.
You must enter your drawing(s) by midnight (CET) 18 September, 2017. Late entries will not be accepted. Due to the expected high volume of last-minute entries, we advise you to enter your drawing(s) well in advance of the entry deadline.
Your drawing(s) must be accompanied by a completed entry form (located on the home page) providing your name, date of birth, address, email, nationality, and country of residence.
The five successful participants (finalists) as well as 10 to 15 semi-finalists will be selected by a Panel of Judges made of at least five members. Successful participants will be notified by e-mail after the selection process.
Successful participants who receive a notification e-mail from UN Women and/or EU Delegation to Nigeria MUST respond to the notification by a return e-mail declaring acceptance. The Delegation of the EU to Nigeria and the UN Women reserve the right to reallocate the prize to another participant if a response is not received within seven days of the notification.
For More Information:
Visit the Official Webpage of the EU/UN Women Gender Equality Picture It Comic & Cartoon Competition 2017